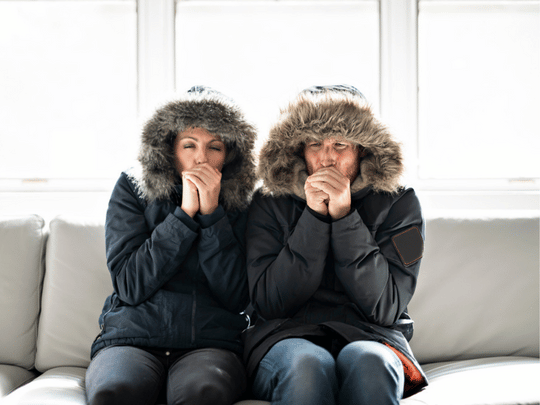 Are you considering a furnace replacement in Schaumburg, IL this year but you're not quite sure if it's right for you? Do you need to choose between Schaumburg furnace repair and furnace replacement, but you don't know how to make sure you choose what's best for your home and your family?At On the Mark Heating & Air, our expert Schaumburg HVAC contractors can help you make the choice that's best for you. Consider the following factors
and give us a call if you want
a professional opinion!
Your System's Age
The majority of furnaces work for 15-20 years, but they can last even longer if they've been well-maintained. If your system is facing major repairs and it's older, it's time to consider a replacement.
The Cost of Repair vs. Replacement
If the cost of any single repair is more than about half the cost of replacing the furnace, then replacing might be best. However, there are other costs that might come with an older furnace, too.
Older units may need more frequent repairs. If these are large, they can add up fast! Older units also cost more to run because they use energy less efficiently. Thus, your bills may go down if you choose a replacement. If you're frequently running into these common furnace problems, it might make more sense to put your money towards a new furnace.
Your System's Ability to Keep You Comfortable
Over time, your furnace may not be able to keep you comfortable anymore. It may not be able to produce enough hot air to heat your home, or it may only be able to produce lukewarm air. In these situations, the best way to get warmer again is to get a new furnace.
Carbon Monoxide Concerns
If you have a natural gas or a propane furnace, carbon monoxide buildup can be a major issue. If your furnace's flame is yellow instead of blue, you need help right away. The best way to avoid future issues may be to replace the furnace, though we can't tell you for sure until we look at it.
Other Comfort Factors
Older furnaces are not as good at removing dust from your home's air and getting it at the right humidity level as newer ones are. If these are significant issues for you and your furnace already needs to be replaced, it might be time to get a new one instead.
Your Ultimate Goals
In the end, you have to consider all of your goals, as well as your financial situation. Even if a furnace replacement might be better, if you don't want to spend the money right now, a furnace repair might be what you need until the next time it breaks.
Only you can weigh the factors, but if you need help deciding, reach out to us at On the Mark and let us know how we can be of service!
Book Now
Book Now