Humidifiers Schaumburg, IL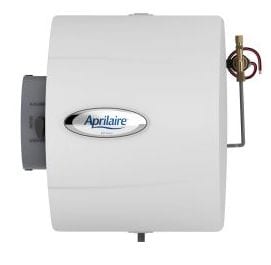 Are you looking to raise the humidity levels in your Schaumburg-area home to increase energy efficiency or comfort? Have you heard that it might be better to have higher humidity, but you're not sure how to achieve that?
At On the Mark Heating & Air, we will help you find the humidification solutions you need so you and your family can stay healthy, save money, and live better. We offer a full range of whole-house humidifier services in Schaumburg and the surrounding area, from installation to repair.
Reach out to us and one of our experienced indoor air quality technicians will help craft the perfect humidity solution for your home.
Do I Need a Humidifier?
Not sure if a whole-house humidifier in Schaumburg is right for you? This can be a significant investment in your home and we understand that you want to make absolutely sure that it's the best option for you. Here are some signs that you could benefit from having a humidifier installed in your Schaumburg home.
Your body feels dry. You may have itchy eyes, get frequent bloody noses, or feel like your nasal passages are always irritated. Adding just a bit of moisture to the air could eliminate all of these issues.
You have a lot of static electricity at home. This is a sign that your indoor humidity is fairly low. If you're having static, you're probably having other issues as well.
You see cracks in wood furniture or floors. You may also see these in musical instruments, like a guitar or a violin. Very dry climates can cause wood to crack.
The Benefits of Installing a Whole-House Humidifier
A whole-house humidifier in Schaumburg can help you in a lot of ways. Even if you aren't suffering because of low humidity, raising the humidity to optimal levels could help you gain the following benefits:
Improve your energy efficiency. HVAC systems work best when your indoor humidity is at optimal levels. Use less energy to heat or cool your home when you choose humidifier installation soon.
Lower energy costs. When you're using less energy, your bills will be lower each month. Put your money toward something more interesting than energy costs!
Help you stay healthy. When your nasal passages are at the right moisture levels, they can filter out more of the bacteria and viruses that make you sick. Feel better this winter after you install your new humidifier.
Humidifier Installation
If you're ready to talk about humidifiers, call us right away. We'll help you determine the best whole-home humidifier for your Schaumburg home. Once we've found the system that's right for you, we'll order it and install it so you can use it right away. We'll make sure you get the very best solution for your needs and budget so you won't have to worry about humidity levels anymore!
Humidifier Repair
If you have a humidifier in Schaumburg, you need to have it working for you! If it's not, contact us right away. We'll send out an expert in humidifiers to look over your unit, assess it, and determine what can be done to get it working well again. We'll implement the right repair so you can get your humidifier back online and make sure it's working for you once again.
Schaumburg Humidifier Pros
If you're interested in a whole-home humidifier or you need a humidifier repair in Schaumburg, contact us at On the Mark Heating & Air today. We'll get an expert to your door ASAP to make sure a whole-house humidifier is right for you and to help you choose the best system for your family's needs. Contact us today to schedule an appointment or to get more information!