AC Repair Schaumburg, IL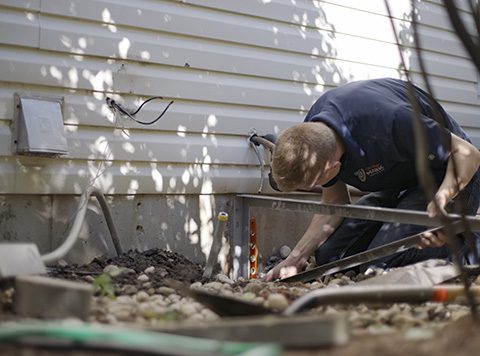 At On the Mark Heating and Air, we will do whatever it takes to keep your home cool and comfortable. So if your air conditioner suddenly breaks down or is not working properly, we'll be there to provide expert AC repair in Schaumburg, IL. Our main goal is to deliver the best experience possible, and our air conditioning service techs can do that because they have the knowledge and experience to work on all makes, models and AC systems.
Whatever's going on with your air conditioner, when you give us a call, we'll get to you fast and get your air conditioning repair in Schaumburg, IL completed before you have time to get too hot! Reach out to us today!
Signs You Need Air Conditioning Repair
Not sure if you need air conditioning repair in Schaumburg, IL or the surrounding area? If you're roasting at home even when your AC is on, it's usually pretty clear that it's time to call in some professional help. However, there are other air conditioning problems that can be harder to notice.
So even if you just suspect you might need air conditioning repair in Schaumburg, IL, it's best to address the problem immediately and give us a call at On the Mark Heating & Air. This will prevent the problem from getting worse, helping you avoid a more serious repair or a potential replacement situation.
Fortunately, these harder to notice issues are pretty common problems that our HVAC technicians can diagnose and fix! Call us for Schaumburg AC repair when:
Your air conditioner won't turn on
Your air conditioner won't turn off, or cycles on and off so fast that you don't get cool
Your air conditioner blows warm air
Your air conditioner is making loud or weird noises
Your air conditioner is frozen (has ice on the outside of the unit)
Your air conditioner doesn't respond to temperature adjustments you make at the thermostat
You are too hot at home even though your air conditioner seems to be functioning properly
You had a sudden increase in your monthly energy bill
If you notice any of the signs above, give us a call and we'll get your Schaumburg air conditioning repair completed ASAP so you can get comfortable again!
Our AC Repair Process
When you call us for your AC repair in Schaumburg, IL, we promise to get to you fast. We'll talk to you about what you're experiencing with your air conditioning, then take a look at the unit for ourselves. After we diagnose the problem, we'll devise a solution that will get you cool at home again soon. We'll communicate with you throughout the entire process. Even if we have to order parts, you'll always know exactly when you can plan on hearing from us again!
Trusted AC Repair in Schaumburg, IL
When it comes to air conditioning repair in Schaumburg, IL or the surrounding area, we have you covered no matter what you need! Reach out to us today for fast service from friendly AC service technicians who you can rely on to always do quality work in your home. We'll get someone to you fast because we know how important it is to stay cool all summer long!
Is Your Upstairs Hotter than Downstairs?
If you're too hot upstairs and are freezing downstairs, that's a major problem! At On The Mark, we have a proven method that will find out why this is happening in your home. After a technical consultation, you will be presented with a variety of solutions to resolve the uneven temperatures in your home and improve your comfort. Call us today to schedule an appointment!