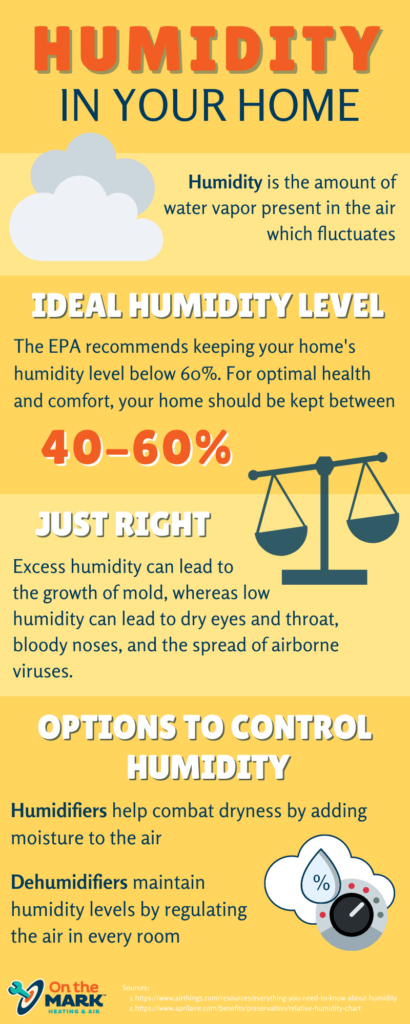 What is humidity?
Humidity is the amount of water vapor in the air.
Why does your home need humidity?
In the cold Winter months, your home can get very dry as warm air is circulating throughout your home. Adding humidity to your home will help you feel more comfortable, preserve wood floors and furniture, and minimize the formation of viruses, keeping you healthier.
For optimal comfort, we recommend setting your humidifier to the following:
35% humidity – 20 degrees or warmer outside
25% humidity – 0-20 degrees
15% humidity – Negative temps
Warning Signs Humidity is Too Low:
Static shock
Cracks in the floorboards
Creaky furniture
Chipped paint
Dry skin and sinuses
Withering plants
How do you know which humidifier is best for your home?
Choosing a humidifier that will properly control your humidity levels depends on the type of furnace and the size of your home. Aprilaire, creates whole-home humidification solutions focused on improving the health of your home's air and has listed the different types of humidifiers they offer. Consult with an HVAC professional about your options. Give us a call at 847.630.9562 or book online!
Humidifier vs Dehumidifier
Humidifiers help combat dryness by adding moisture to the air. Adding humidity prevents dry skin, the spread of viruses and protects wood floors and furniture.
Dehumidifiers maintain humidity levels by regulating the air in every room. A dehumidifier also controls the growth of mold and mildew and keeps the air fresh even where moisture tends to linger.
Benefits:
Whole home humidifiers only need to be maintained once a year (replacing the evaporator pad) versus a portable humidifier which needs to be maintained daily or weekly.
Humidifiers create moisture in your home to prevent your skin, noise and throat from getting dry, keeping you healthier.
Some whole home humidifiers have an outdoor temperature sensor which automatically adjusts the humidity in your home.
To learn more about IAQ products and which products work best to solve common problems, check out our previous post, The Rundown on Indoor Air Quality.
If you have any questions about your home's humidity, give us a call today at 847.630.9562 or book online!