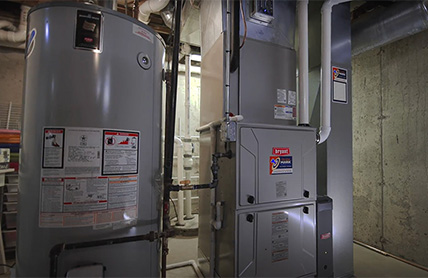 Are you in the market for a new HVAC system? Are you wondering about the cost, your options, and the process of HVAC replacement?
Read on to learn what you need to know to help you make the best decision for your home and budget! You can also check out our post about the best brand of HVAC equipment.
Of course, you are always welcome to reach out to our Schaumburg HVAC experts for help, advice, or whenever you're ready to schedule service!
HVAC Replacement Cost
The cost of replacing your HVAC system depends on several factors, such as the size of your home, the type of system you choose, and the complexity of the installation. On average, however, you can expect to pay between $5,000 and $10,000 for a new HVAC system.
HVAC Replacement Contractors
If you've been searching for "HVAC replacement near me," there are a few different ways to find a reputable contractor in your area. One option is to ask for recommendations from friends and family members who have recently replaced their HVAC system. Another option is to search online for an HVAC contractor in Schaumburg, IL or in your area and read reviews from previous customers.
HVAC Replacement System Types
Most people replace their old system with a new one of the same type. That way, they don't have to worry about modifying their system and they have a system that they feel like they can trust.
However, you always have several choices when it comes to system type. The most common types of HVAC systems are central air conditioning, heat pumps, and ductless mini-splits. Central air conditioning is the most popular choice because it provides consistent and efficient cooling for your entire home. Heat pumps are a good choice if you want both heating and cooling in one system. Ductless mini-splits are a good option for homes without existing ductwork.
Our team can help you evaluate your home and your needs and choose the best system for you.
Considerations When Installing a New HVAC System
There are a few key factors to consider when selecting your new system.
Consider the size of your home and the amount of heating and cooling capacity you need. A properly sized HVAC system will heat and cool your home efficiently and effectively, saving you money on energy bills.
Consider the efficiency of the system. A higher-efficiency HVAC system will save you more money on energy costs in the long run, even though it may have a higher upfront cost.
Consider the reputation and warranty of the HVAC brand. Choose a reputable brand with a good warranty to ensure that your system will last for years to come.
If you want to compare different brands and models of HVAC systems, there are several ways to do that.
Visit the website of the Department of Energy, which provides information on the efficiency of different HVAC systems.
Read online reviews from customers who have purchased and installed different systems.
Consult with our reputable HVAC contractor who can provide guidance and advice based on their experience and expertise.
Upgrade Your HVAC System Today
In conclusion, replacing your HVAC system is a significant investment, but it can provide long-term benefits in terms of energy efficiency and cost savings. By considering the cost, options, and ratings of different HVAC brands, you can make an informed decision and choose the best system for your home.
Call us at On the Mark Heating & Air whenever you're ready to start this process!