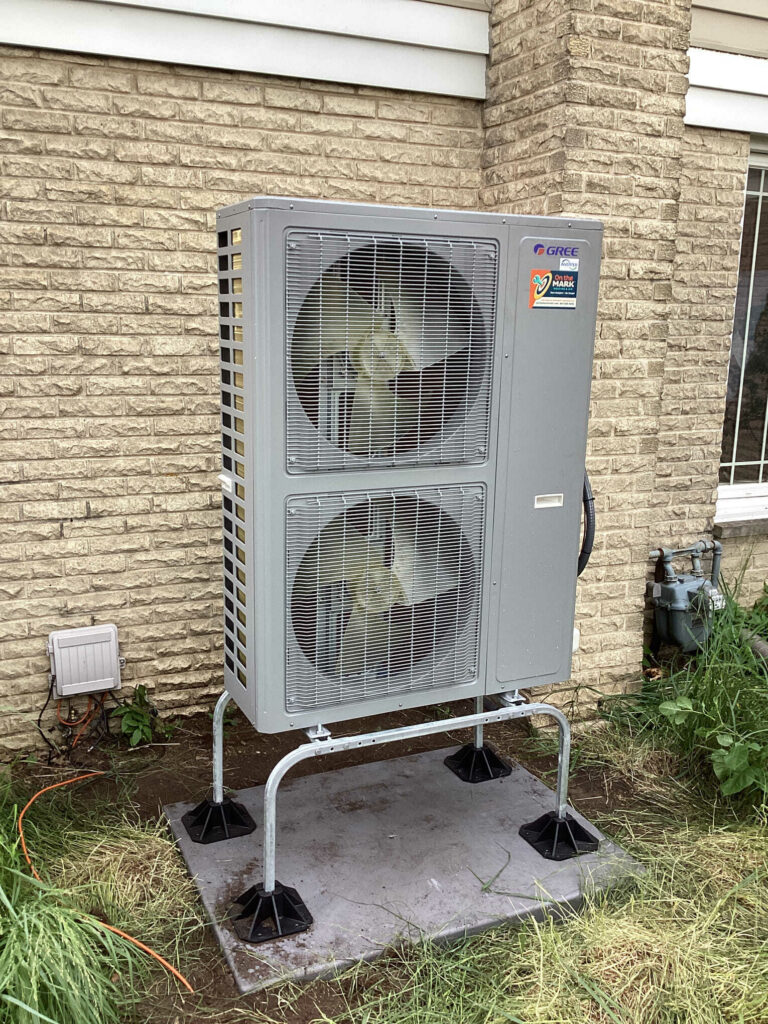 As winter approaches, many Illinois homeowners are gearing up to beat back the chilly temperatures and get on top of rising heating bills.
Traditional heating systems have been the go-to choice for warmth, but there are other options that are more efficient and environmentally friendly while reducing your utilities: the heat pump. Continue reading to learn what you need to know about them and how the Schaumburg heating experts at On The Mark can help you stay warm this winter.
Have questions or need help? Reach out to our Schaumburg HVAC team today!
1) Energy Efficiency
Energy efficiency is one of the perks of switching to a heat pump in Schaumburg or the surrounding area. Unlike traditional furnaces that generate heat by burning fuel, heat pumps transfer heat from the air or ground, warm it, and distribute it into your home. Even on a blustery, cold Illinois day, heat pumps can quickly extract heat from the outdoor air and heat it up to warm up your home.
2) Cost Savings
According to the U.S. Department of Energy, heat pumps can deliver up to three times more heat energy to a home than the electrical energy they consume, resulting in major cost savings. When Illinois winters stretch into spring, homeowners need as much breathing room in their utility budget as possible. The offset in energy bills also makes investing in a heat pump an easy choice.
3) Year-Round Comfort
Despite their name, heat pumps aren't just for heating; they can also provide efficient cooling during a hot summer stretch. They work by reversing the refrigeration cycle, absorbing heat from inside your home, and releasing it outdoors to keep your home cool and comfortable. The dual functionality eliminates the need for separate heating and cooling systems, saving you money on installation and maintenance.
4) Environmentally Friendly
Heat pumps don't rely on burning fossil fuels and are a more environmentally friendly way to warm your home. They produce fewer greenhouse gas emissions compared to traditional heating systems. The process of taking heat from the air or ground in an ongoing, constant cycle focuses on renewable energy instead of low or no carbon dioxide (CO2) emissions.
5) Consistent and Even Temperatures
Depending on your system, traditional heating systems can create inconsistent warming patterns in your home. You may notice cold spots or struggle to properly warm specific rooms. Heat pumps distribute heat evenly throughout your home for consistent comfort in every room, no matter the weather outside.
6) Low Maintenance
Heat pumps are durable and come with fewer maintenance requirements than systems like furnaces. With proper care, they can also last for at least 15 to 20 years or more, making them a wise long-term winter investment. Heat pumps are easy to maintain because they use the same components for both heating and cooling. Meanwhile, traditional HVAC units have separate cooling and heating units that require different energy, fuel sources, and maintenance practices.
7) Incentives and Rebates
You can lower your investment in a heat pump with government incentives and rebates. In our area, homeowners could qualify for a rebate of up to $4,225 if you install a heat pump. The team at On The Mark can help determine what kind of rebates and incentives you're qualified to receive.
8) Increased Property Value
Whether you're thinking of selling your home or just want to protect your investment, installing a heat pump can increase the resale value of your home. Potential buyers looking for energy-efficient features and utility cost savings are more likely to see your property as a desirable pick. In the meantime, you get to enjoy a more efficient way to warm your home.
Call Your Illinois Heat Pump Experts Today!
Our expert technicians offer reliable heating pump installation and maintenance in Illinois, helping to keep your systems running as efficiently as possible. We also work on heating repairs, installations, and replacements with affordable pricing and financing options.
Call the team at On the Mark Heating & Air today!
Learn More About Schaumburg Heat Pumps
Check out more of our blog posts below for some helpful info, expert tips & more!