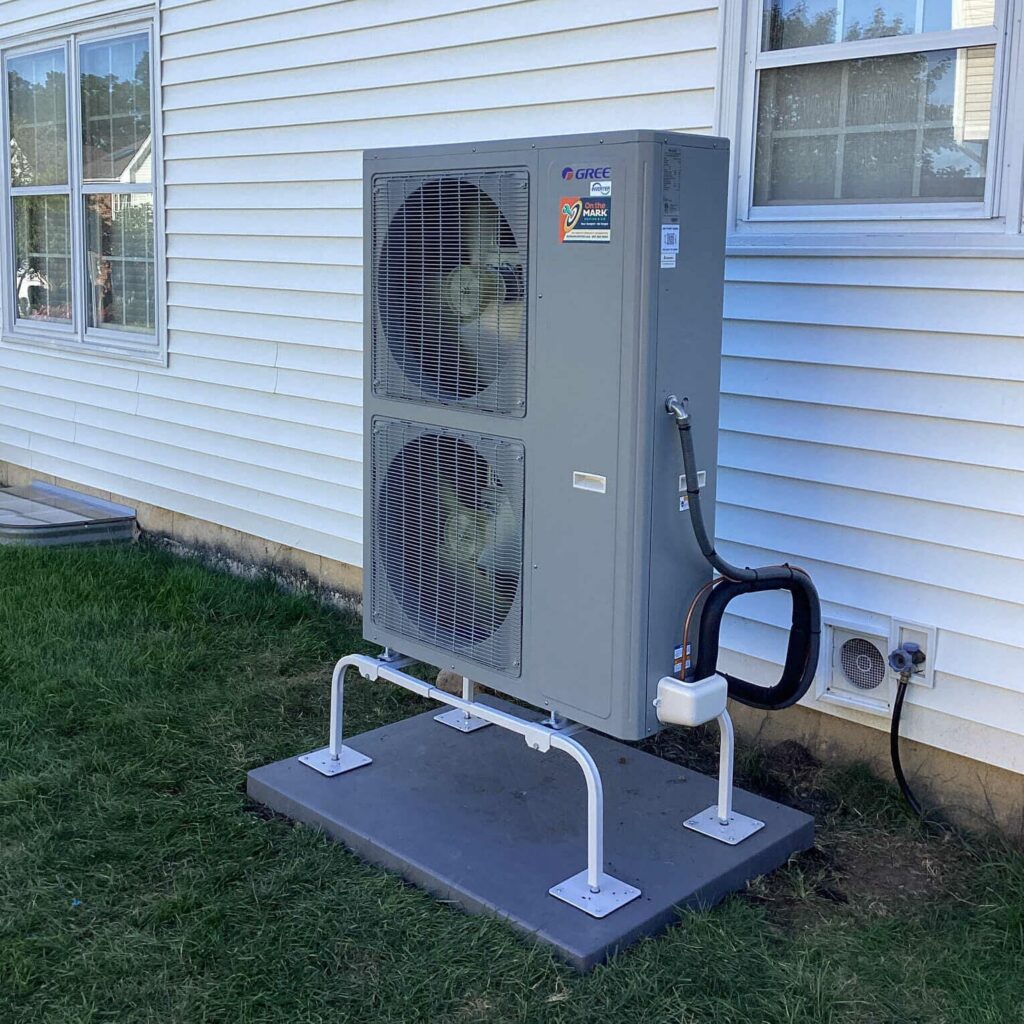 Upgrading your Schaumburg HVAC system to a heat pump comes with energy efficiency, cost savings, and plenty of warm air.
Not sure what to expect or if you're better off with your old system?
Read on to learn everything you need to know about the heat pump installation process and how to prepare your home.
You can also give our Schaumburg heating service pros a call if you have any questions or are ready to book an appointment!
What is a Heat Pump?
A heat pump is a versatile HVAC system that can both heat and cool your home from the same unit. Instead of generating heat, it takes cold air from the outside or ground and warms it before distributing it to the inside of your home. During the hot summer months, it can do the opposite. The results are a highly efficient way to both heat and cool your home.
Why Make the Switch to a Heat Pump?
Heat pumps are a highly efficient way to warm your home. They use less energy than a traditional heating system, like a furnace, and are usually cheaper to operate than your current system. They're also more environmentally friendly, don't rely on fossil fuels for power, and produce fewer greenhouse gas emissions than a system like a furnace.
What to Expect During a Heat Pump Installation
If you want to explore a heat pump for your Illinois home, here's what to know about the installation process.
1) Assessment
Before the installation process begins, one of On The Mark's experienced HVAC technicians will visit your home or business. We'll evaluate your current system, your existing ductwork, and the layout of your home or business to determine the most suitable heat pump size and type for your heating and cooling needs.
2) Choosing the Right Heat Pump for Your Home or Business
After going over everything about your system and collecting your feedback about how your home is warming, we'll talk through your options. There are various types, including air-source and ground-source (geothermal) heat pumps. We'll discuss the costs, make a recommendation, and set a time to come out to install your heat pump.
4) Pre-Installation Preparation
Your home will need some prep work before installing a heat pump. It could include clearing the installation area, making space for indoor and outdoor components, and making sure everything is accessible. We'll talk through what (if anything) should be addressed before we start installing your heat pump.
5) Indoor and Outdoor Unit Installation
The team at On The Mark will get to work on installing your heat pump's indoor and outdoor units. Your units will be strategically placed to optimize your heat pump's efficiency and ensure proper airflow. Our experienced HVAC technicians will handle every aspect of the installation process, including:
Removing and taking away your old HVAC system
Making any modifications to your home's ductwork or electrical system if needed
Connecting the refrigerant lines, electrical connections, and thermostat
Testing and Calibration
Before your experts from On The Mark leave, we'll make sure your heat pump is thoroughly tested and calibrated to meet your desired temperature settings. We'll also walk you through how everything works, answer any questions, and recommend a heating maintenance schedule to keep everything in good working order.
Call the Team at On the Mark Heating & Air Today!
Are you ready to make the switch and make an investment in a heat pump installation? Our skilled technicians offer heating installations, repairs, and maintenance for all of your HVAC needs. We'll get your home working efficiently and keep it warm all winter. Call the team at On The Mark today to get started!
Learn More About Schaumburg Heat Pumps
Check out more of our blog posts below for some helpful info, expert tips & more!