Are you trying to hold on to the last bit of Summer or aren't ready to fully accept winter is just around the corner? Us too! But sadly, we need to start prepping our home's HVAC system for the cooler weather ahead.
Not sure when to turn on your furnace or need a reminder (since it's been a good 6 months)? Here are some steps to take to make sure your furnace is ready for the upcoming cooler Chicago weather.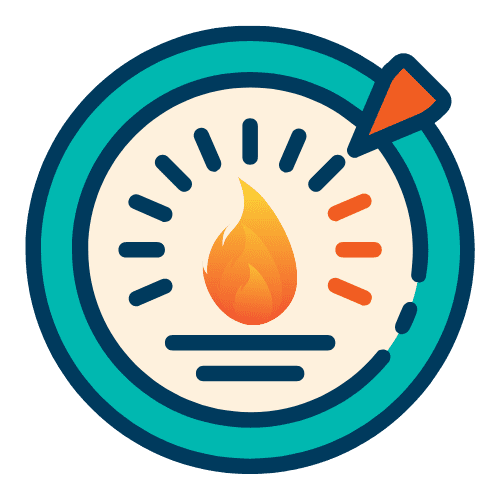 1. Change Filter
Regularly changing your furnace filter is very important to not only the health of your HVAC system, but it provides clean air for your home and prevents you from breathing in harmful pollutants. For more information about furnace filters and how to check/change a filter, check out our previous blog post all about air filters!
2. Test Furnace
If you're reading this, it's time to test your furnace. Yes, even if it's only 60 degrees and theres no snow on the ground. NOW is the time to make sure your furnace is running and heating properly, because if it's not, you'll have enough time to get it checked out or fixed if needed.
To test your furnace, simply switch your thermostat from cool to heat. Next, set the temperature a couple degrees higher. Your furnace should kick on within a few minutes.
3. Check Vents
The first time you turn on your furnace is a good time to double check all your vents to make sure they are uncovered, open and nothing is blocking air from coming out. Floor vents easily get covered by furniture and rugs or are accidentally closed or blocked (maybe by a toddler finding a good hiding place for their cheerios…been there!).
4. Listen for Weird Noises
Once you've switched your thermostat to heat, and the furnace motor kicks on, listen for any weird noises. Noises such as banging, squeaking or scraping are indications of a problem. Bad airflow or a loose or broken motor could be the culprit. Its always best to get it checked out by a trained professional.
5. Schedule a Tune Up
Scheduling a routine clean and check on your furnace, at least once a year, will increase the life of your HVAC system, minimize the cost of repairs, and ensure your equipment is running properly and efficiently.
If you have any questions about prepping your furnace for winter or would like to schedule a furnace precision tune up, give us a call today or book online!